Mahahual is the doorway to the Banco Chinchorro Biosphere Reserve, a coral atoll that grabs the attention in this remote region of Mexico. The expeditions to Chinchorro are subject, first, to good weather conditions -it is important that sea conditions are favorable- and, second, to a minimum number of divers -a group of minimum 6 divers is required-. The atoll is famous thanks to the black coral, its nurse sharks, its turtles, its crocodiles, its lobsters and pink snails but it has also archaeological sites formed by wrecks. An underwater cemetery that hosts up to 69 historical boats from Sixteenth Century to nowadays.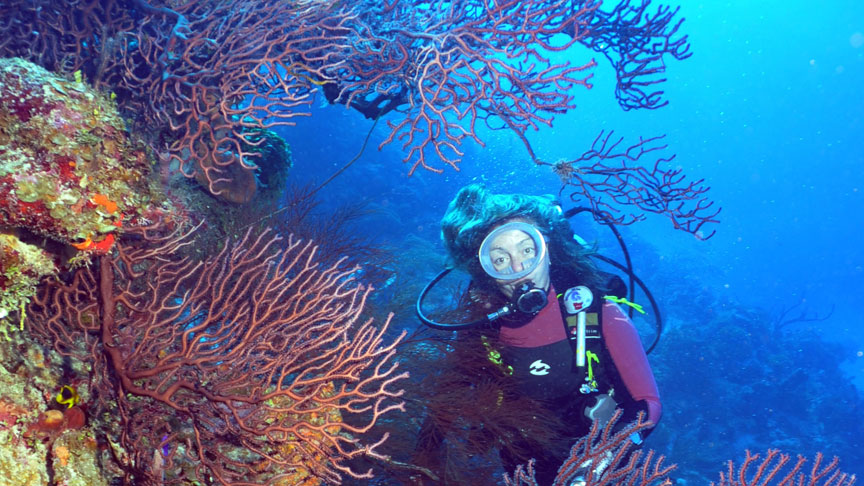 Coral Negro
It is the indispensable diving in your first visit to this place. Located in the North-East side of the atoll, it is formed by a sand slope where big coral structures stand out. It is full of sea life and the average depth is 65 feet.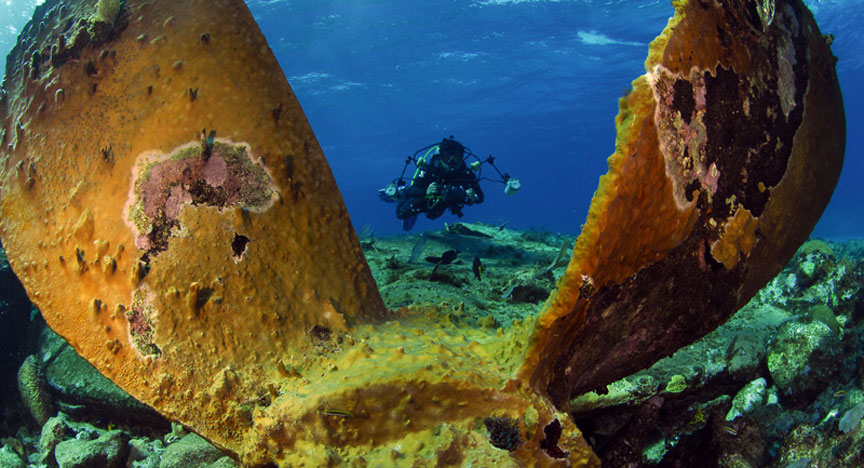 Ginger Soul
When the sea conditions allow it, you can go to see this wreck located in the East of the atoll. It is a cargo ship, a Nineteenth century steamer, that still has all its machinery spread all over a very healthy and clean shallow reef. The most famous part: its huge propeller.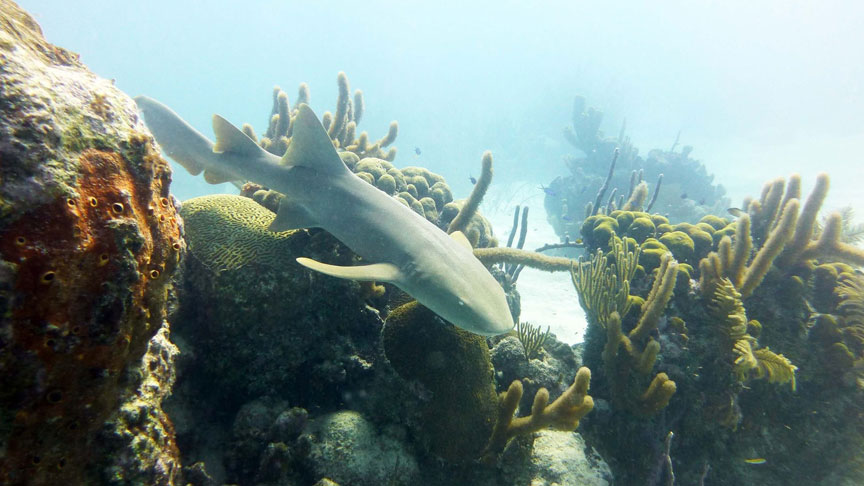 El Acuario
Naturally, Chinchorro has also its "Aquarium". A place full of marine life which landscape combines coral reef and white sand. The nurse sharks are very common here and they use to be very curious.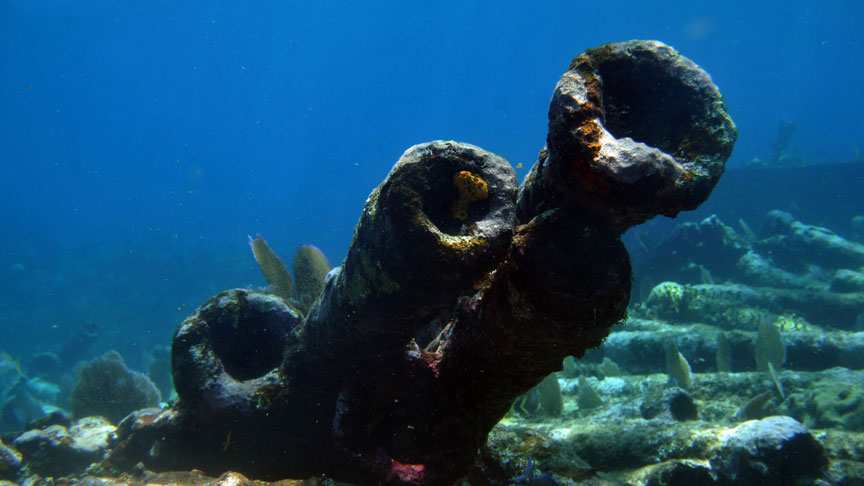 40 Cañones
This is the most known wreck in Chinchorro. A war ship from Seventeenth century -probable in a battle- in a big sandbank at 26 feet in depth. The boat's wood structure has already disappeared but it is still possible to see 30 bronze canyons.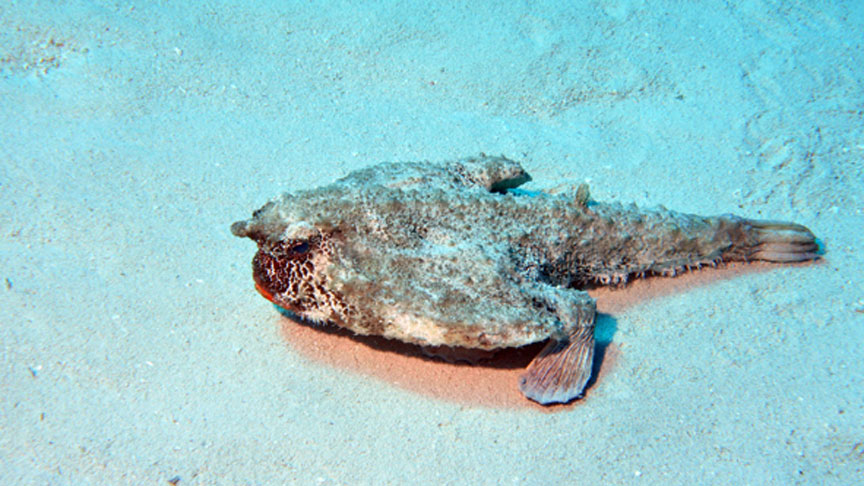 Santa Teresita
It is formed by a beatiful coral wall, steep but not very deep (58 feet maximum). It is very common to see morays, lobsters, groupers, parrot fishes and turtles. If you look further to the blue, maybe you will also see a shark crossing.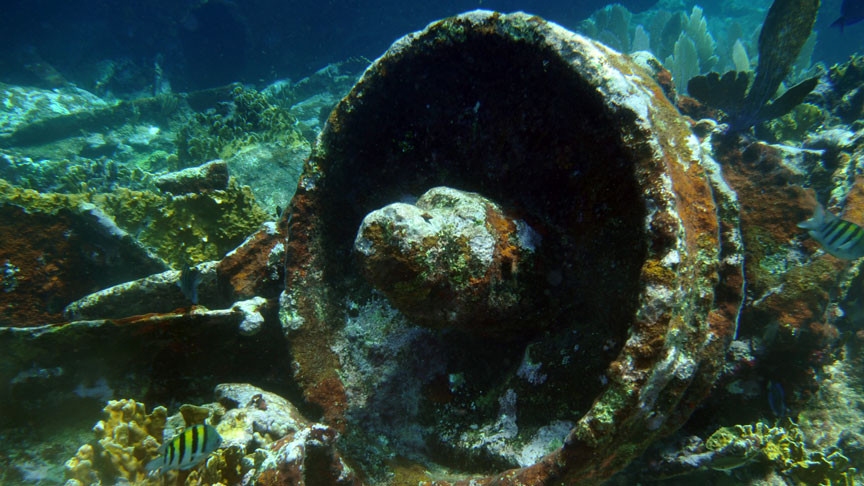 Calderas
It is another wreck located in the north side, close to Cayo Lobos -where nowadays there is a navy base-. It is a Nineteenth century steamer merchant and it is known due to its huge boiler that almost reaches the water surface. It is a shallow and calm diving.
00
Average diving time (minutes)
00
Average visibility (feet)