Our whole project -diving center, adventure tours and diving resort- is based on having a prepared and professional crew, trained to become "travel assistants" that will, not only make sure that our customers will have good and safe divings and adventure&nature tours, but also will help them to have a great "vacational experience in Mahahual. The instructors Pepe esteban and Chano Montelongo are the leaders of this group formed by dive masters, adventure guides, captains, sailors, etc. Most of them have been formed, from their professional career start, in this same school, Pepe Dive. Our motto is "professionalism, kindness and sympathy". We invite you to live with us the most amazing adventures that this remote spot of the Mexican Caribbean can offer.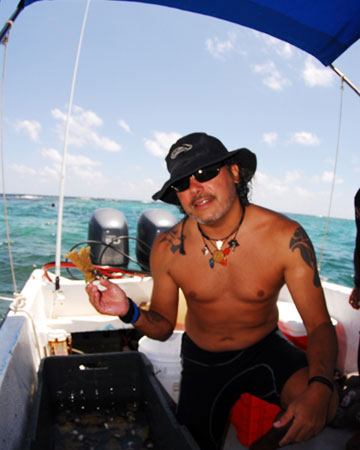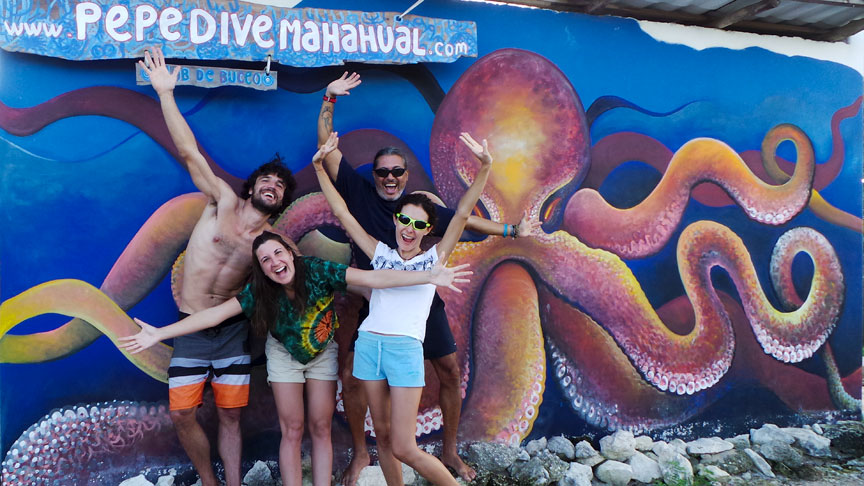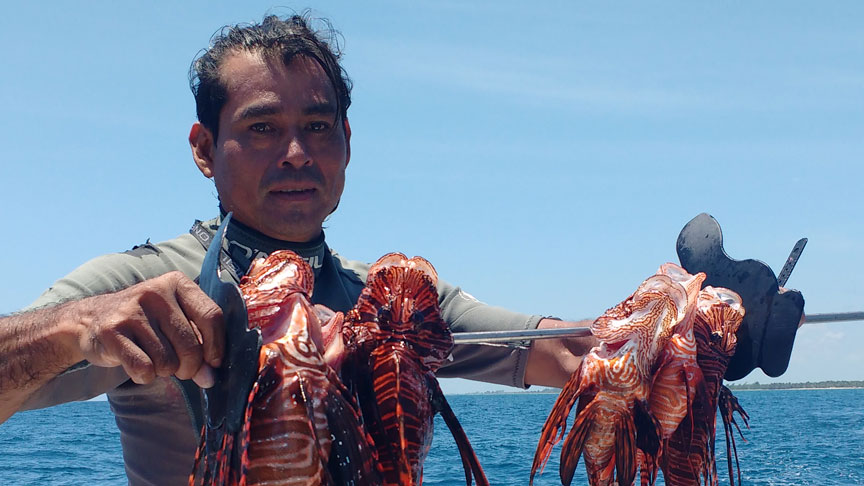 School
Mahahual is an ideal place, not only to learn diving and get your first certification, but also to move forward and reach a higher level of technical diving skills. We offer any type of courses, from the basic levels to the professional ones. see more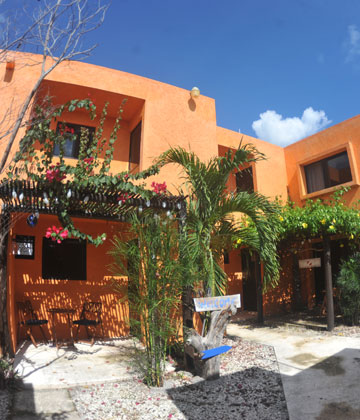 "Posada Kraken Diving Lodge" was born in November 2013 to offer an accommodation alternative to Pepe Dive Mahahual's customers. Since then, we have been hosting lots of guests/friends that keep on coming back year after year with other friends. The "Kraken Family" does not stop growing!
It is a small condo with 6 departments around a cozy and colorful tropical garden that provides a very welcoming atmosphere. It is the perfect accommodation to get some rest after an exciting diving & adventures day in this paradise called Mahahual.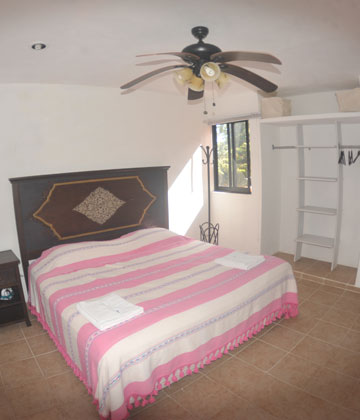 No falla…, al olor de la sangre acude el hambre. Estoy de pie en un fondo de arena a 25…
Ver más
Mahahual es un encantador pueblito de pescadores alejado del habitual ajetreo turístico de sus ciudades vecinas de Tulúm, Playa del…
Ver más
MAHAHUAL TRIBE
Aqua's thin and webbed fingers banished the wet hairs from her face. She could feel the sun drying her soaked skin. She blinked a few times to rinse her deep sea-eyes so little used to the surface's air and licked her lips with Caribbean flavor. She was worried about the sea's high salinity. She felt how her gills started to close and how her nostrills were filling with air. She had decided to emerge as those forcing them to extinction, paradoxically, needed help...it was not too late for her species yet, no while Oceania was still alive...
LA MALDICIÓN ETERNA
Son de los más antiguos del océano. 450 millones de años en la Tierra y 100 millones de años sin evolucionar porque son "maquinas perfectas". Pero la realidad es otra..., dice una vieja leyenda polinesia que fueron los dioses los que castigaron a los tiburones por su maldad y mal comportamiento. Los condenaron a no dormir, a vagar eternamente sin descanso por los mares..., por eso, a diferencia de otros peces, ellos no tienen opérculos en su branquias y han de moverse continuamente para poder filtrar el agua y así poder respirar. Es la maldición eterna.
Tell us your diving stories in less than 100 words and send them to us toinfo@pepedivemahahual.com to see them published in this section.